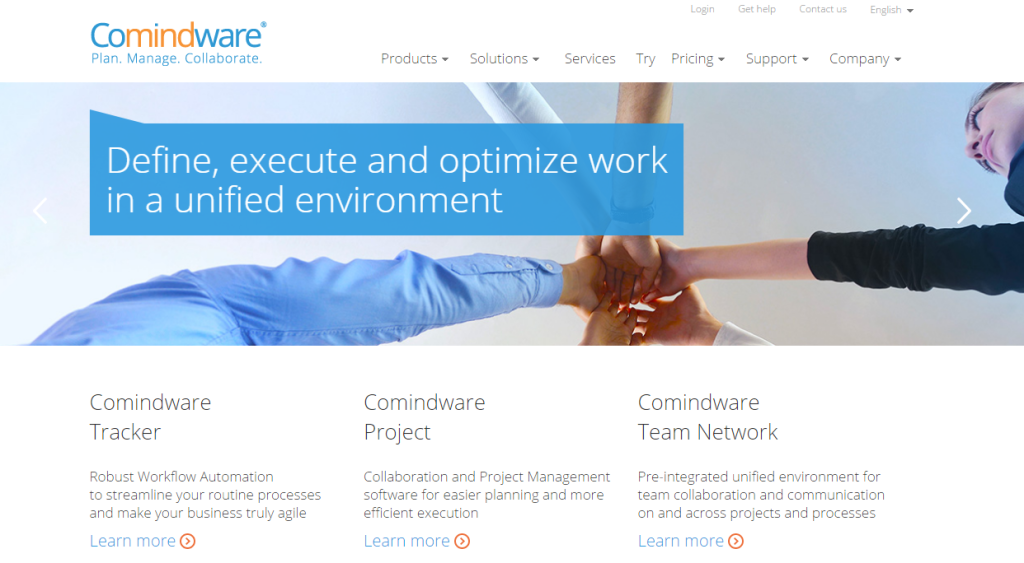 President of Consumer and Business Worldwide of Parallels, former CEO of PhysTechSoft, advisor at Runa Capital, and the man who stood as one of the founders and CEO of the multimillion dollar global data protection company, Acronis, Max Tsypliaev has moved on to pursue further challenges by co-founding another rapidly growing technology company, Comindware, a collaborative workflow, task and project management software provider.
Mr. Tsypliaev, who has over fifteen years of entrepreneurial and management experience to his name, is joined by his Acronis business partner, Helmut Heptner. The rest of the Comindware team is composed of a group of likewise successful software entrepreneurs with reliable track records of expertise and involvement with industry-leading companies, one of which is Kaspersky Labs.
With the main goal of rapidly growing the company over the next few years to be a recognized leader in business process automation and project management solutions for companies of all sizes, Comindware consistently develops unique and innovative software geared towards simpler task and workflow management, project management, and more flexible software handling.
Founded in 2010, Comindware utilizes a top-of-the-line visual graph approach to building workflows and databases through its ElasticData technology. This method has proven to be more useful than the conventional relational approach.
Trailblazing technology – Comindware Tracker
With ElasticData, the operation of Comindware Tracker, Comindware's flagship offering, becomes easier and more accessible to non-programmers since the data can be updated, edited, and tweaked through a familiar Outlook-like, drag-and-drop visual interface.

There is no more need to learn to code in order to navigate the workflow builder effectively. This eliminates the necessity for added employee training and longer adoption time, resulting in more effortless workflow creation and adjustment.
ElasticData was given the "Most Innovative Enterprise Graph Application" award in November 2012, boosting Comindware's position as a reliable business workflow solutions provider.
Workflow automation and task management rolled in one
ConnectStep, another of Comindware Tracker's unique features, is a patented breakthrough technology that's rooted on simplicity. Unlike complicated interfaces where users need to constantly switch from one system to another to handle different projects, ConnectStep simplifies workflow coordination and task management by integrating the necessary tools, making pertinent data available through a single source.
This functions by assigning each task according to each designated user, along with the task's details such as priority, deadline and description. After each task is completed, ConnectStep automatically assigns the next task to the appropriate member through push notifications, so that each team member can continuously finish tasks without fussing about the workflow behind each one.
ConnectStep keeps things moving along in the correct order and pace, streamlining the flow of day-to-day task management and collaborative workflow processes.
Comprehensive usability
Comindware Tracker is a single application that comes with several built-in but customizable workflows that can be utilized for the efficient management of repetitive business processes such as:
Issue tracking. If you're running a software development company, tracking issues shouldn't take you away from doing what you're supposed to be doing – creating a reliable, bug-free and useful application.
Accounts payable and finance administration. Never allow an invoice that's been processed late because someone forgot about it to make you pay penalties and other surcharges … again.
Contract approval. When working with multiple supplier partners and other contractors, sometimes, contracts that take too long to get approved can cost you the deal. If this is something that you don't want to experience, optimizing your approval workflows can greatly help.
HR processes. The workforce being one of the most important aspects of any business, it is important that their needs are addressed promptly and properly – leave requests, wage disputes, performance assessments, proficiency trainings, among others. This cultivates a spirit of trust in your people, a sense that management is able and willing to work with them, not just for them.
Policy implementation. Policy rollouts and changes are normal for businesses driving for growth and innovation. Policies, however, are not created, changed or repealed at whim, as they can affect the whole organization. Needless to say, they have to be well-thought-out, effectively weighing the pros and cons before a final decision is reached. Having a workflow designed specifically for this particular task streamlines and speeds up the process.
Continuous education, training and compliance. Developing your workforce can also mean training them to meet industry or regulatory standards. With Comindware Tracker, know at a glance who in your team needs to be trained for this or that, the status of their training if they're on one, and who else needs to be certified.
Back-office administration. Back-office functions such as logistics is vital for every business. Of course, you don't want your business functions stopped because of avoidable circumstances such as a pending request for production raw materials, for example.
Custom processes. Businesses can also set up their own unique solutions by tailoring their workflows to their particular industry needs.
The real thing
Despite this array of cutting-edge developments, Comindware continuously adds new features, such as the launch of the cloud version in 2012, easy integration with Microsoft SharePoint and other third-party applications through API, and the native Android and iPhone apps to address the productivity requirements of personnel who are always on the go.
Comindware Tracker is available for a 30-day free trial, with neither credit card nor any installation requirements.
Aside from Comindware Tracker, other products offered by Comindware are Comindware Project and the Comindware Team Network. To know more about these apps, visit Comindware's website at http://www.comindware.com.
_____
Disclosure: Maricel Rivera works for Comindware as content writer.
The following two tabs change content below.
Maricel Rivera is a freelance writer, editor, and marketing specialist. Her freelance writing career spans over ten years, starting out as a fiction writer in the early 2000s. She has already written on topics covering business software and online marketing.
Latest posts by Maricel Rivera (see all)