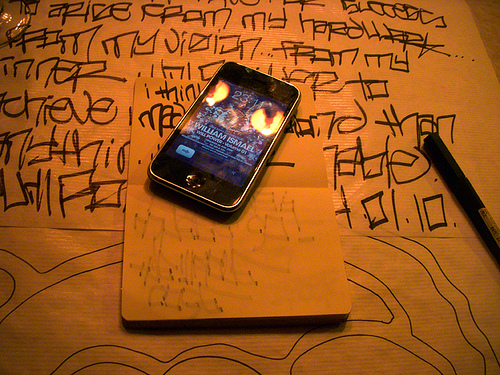 "Music is powerful. It has the potential to evoke emotions and personality. Because of the profound effects music has on the human race, it has been a common link between cultures around the world for centuries." – How Music Affects Concentration and Work Efficiency – Lab Packet
The lines are so beautifully affecting I couldn't help but re-quote. These came from a study I found regarding how music stimulates the brain and affects concentration and work efficiency, focusing on what genres work best.
Immediately, the inspiration to write my own thoughts on this matter and how such musical motivation fuels my writing flowed through my veins like wildfire.
I then came across an outstanding article by Mark Fensken, a neuroscience associate professor and co-author of The Winner's Brain: 8 Strategies Great Minds Use to Achieve Success, at theglobeandmail.com on music and why it motivates people.
According to Mr. Fensken, the energizing effect that we get from music stems from its ability to engage our sympathetic nervous system – the "quick-response mobilizing system." This "excitory" part of our brain is the division responsible for generating our "fight-or-flight" instant reaction to challenges in our environment, and music activates this system.
I'm no music elitist, not an extreme fundamentalist; you won't hear me quoting scales, notes, legatos and arpeggios amid tons of snobby music theories, but music is like air to me. I don't engage in genre Nazism, either. I just absolutely need and devour whatever music feels and sounds right to me, like I need oxygen to breathe. It's a safe and inexpensive drug.
Each of us must certainly have some special song that inspires us. Being a music sponge, I have many; but for this post, I'll use a song called You Gotta Go. It's not metal, but it's one of my newest inspirational songs, and this is how it helps me write.
1. The introduction
"This is how it all begins
Move your feet – feel how sweet it is."
It talks about the beginning.
Similar to most people, I encounter writer's block. But always, especially when coming up with that hook-you-in-immediately-you-just-can't-help-but-read-more intro.
The first lines from the Owsey Remix of Above and Beyond's song, You Gotta Go never fail to bring (I'm not ashamed to admit it) a little teariness to my eyes, while the more powerful Seven Lions dubstep remix brings chills up my spine. And this is where the magic begins.
"Dream on, little dreamer
Follow all your signs."
What are your signs? Your interest, passion, a topic that you're good at, that you can just imagine yourself going on about without getting bored? Now how can you intertwine that with an article you're supposed to write?
Since I am into music and neuropsychology, I entwine music and its effect on mind motivation for my writing.
If you're writing about technology and you're a biology or zoology lover, you can write about how technological advances can impact the environment and cite examples on environmentally-friendly measures imposed by some companies.
If you're writing about business and you're at the same time a social activist, you can write about socio-economic ventures that are actually gaining some measure of success, and then note best practices that led to these businesses' sustainability against bigger capitalists.
You can start with a quote, a study, a slogan or tag line, even a picture or a video that encapsulates the main drift of your topic. It's not that hard if you're really into what you want to say. Just follow all your signs.
2. The research
"You got to gather up what you need
You got to choose a direction."
The substance of your essay or article lies in the amount of research you actually do to back up statements in your post. For this post, I immediately knew I wanted to do a music and neuropsychology (two of my greatest interests) angle and did my research accordingly.
Believe it or not, I had about almost 20 or so tabs open on my browser as I skimmed (yes, skimmed! I'll explain why later) on resource materials that are in line with what I have to say.
"And when the moment is right for you
You got to go."
Just like in music, instinct works. A few notes into a song and you already know if it's a love or hate.
In the case of writing, I believe that skimming through a few sentences and the instant reaction you have determines its winning or losing presence. That's why when you have to narrow down your resources, try skimming. See what articles have lines that pop out, have statements that are unforgettable, have paragraphs that you just have to read on. Save and use these sources. These are golden.
They don't have to be the same for everyone, but for the integrity of your article, they have to matter most to you. All like-minded beings will know and naturally gather. That's why bands and authors have their own set of fans.
3. The body
"You got to keep your ideals high."
Keep your ideas and wordings intact, your grammar, spelling and punctuation flawless, and your facts solid. Don't scrimp on quality, especially when it's got your name on the byline.
Then again, nobody's perfect. And editing and researching, despite being related to, are not the same as writing. Others are better at the first, or the second, or the latter. As long as you did your best, you can ask other people whose skills you respect to review your work for you before hitting that publish button.
"You got to know that the sky belongs to no one
You know you got to go."
Maybe because many others have written about it before, the topic has been talked about countless of times, that you begin to lose hope of ever standing out. Remember that quantity is different from quality. How many remakes of Romeo and Juliet have you read or watched? How about The Lord of The Rings? Which ones stuck to mind?
Everybody has done their piece, take the right to make your own mark, and make it worth it.
4. The conclusion
"Keep on, little dreamer – keep hold of all that you are."
Another thing that I face difficulty in is copping out with that just-so-unforgettable, must-read-again, must-like, repost-and-share conclusion that seals the deal.
But guess what? Listening to the song has led me from start to finish with this article. And my ideas are intact. Reaching the finish line should be exhilarating, and I have maintained that feeling.
I wasn't able to notice how much time has already passed, and then before I knew it, I've reached my conclusion.
Finishing your work should be just as invigorating as when you started. And once you're on a roll and internally motivated, putting a concluding sentence to nail your work done comes naturally.
"So the next time you face a daunting task, think of a strategic musical choice to give your brain and body a motivational boost." – Mark Fenken
Word to that.
So how about you, what is your motivational experience?
Image credit here.
The following two tabs change content below.
Hazel Mae Pan
Hazel
is a full-time researcher and editor for a multinational financial firm. She is also a freelance researcher and writer with more than 10 years of professional and competitive writing experience. Technology, psychology, aesthetics, music, economics and finance are among her professional and literary interests.
Latest posts by Hazel Mae Pan (see all)