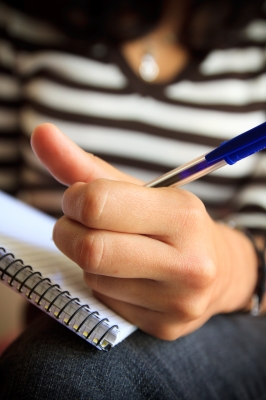 If you're like me, trying to balance family, full-time work and freelancing on a regular basis, you probably have already wished that the time some people "waste away" chatting on their mobile phones, laughing at "senseless" jokes or just plain "doing nothing value-adding" can magically be awarded to you and those others who don't have enough time left of their 24-hour ration to sleep a full seven hours everyday.
That, of course, is wishful thinking.
Just like the sun shines on both the rich and the poor, the weak and the strong, 24 hours – no more, no less – is everything an individual walking this planet makes do with everyday. You can save it all you want, but the time you save can never be used or "borrowed" to make up for the time you lose, squander or don't have.
That being the premise, time cannot be captured in a bottle or placed in a loin cloth for use in an emergency. It's best that it be spent wisely while you have it.
The point? 
I'll get there, I promise.
But first, let me tell you a story.
There was once a woman who finally got sick and tired of living from paycheck to paycheck. If there was any consolation to the situation, her family always had three decent meals a day and the kids went to equally decent schools – all this without having to resort to credit card debt.
The problem, however, was that even when her salary was increasing, albeit not dramatically, she was walking in financial limbo, which meant she had no emergency savings to fall back on when the going suddenly decides to take a left turn instead of a right.
Insanity is doing the same things over and over and expecting different results. – Albert Einstein
Surely, it couldn't have been an issue with the amount she was making. Before the salary increases, her money complaints already took the same shape and form: Except for the coins resting inside her piggy bank, she had no savings.
And then, it hit her. It was MONEY MISMANAGEMENT. Yes, in all caps!
This basic mindset tweak changed a lot of things, eventually.
Through sheer will, she managed to learn the basics of proper money management and discovered that financial freedom/independence isn't about how much someone makes but how much someone saves and invests.
Let me say that again for good measure.
It's not how much you make but how much you save and invest.
One day, she found herself scouring online job boards for freelance writing jobs, which she fortunately got at rates that weren't dismal. She labelled these jobs "side jobs."
The job frequency was pretty decent, in her opinion, considering she had a full-time job to contend with, too. She was learning a lot and earning some, which was perfectly fine with her. The most important freelancing lesson she had to learn, however, she learned a year after:
Freelance writing is a business. It should, therefore, be treated just like any regular business.
Side job or business? 
Side jobs are jobs you do that augment the base salary you receive from your main job. And because they're just that, people don't expect too much from them – financially, at least. If they do well, well and good. If not, well, it's because they're side jobs, right?
But when you start treating freelance writing like a business, you start seeing it in a different light. And that's when a lot of things change.
Here are some of the things you'll be prompted to do the moment you start shifting your perspective from side job to business:
You devise a business plan, which includes your brand and location, your specialization, your target clients/audience/market, and, last but not least, how you will make money in the overall scheme of things.
You study the market, particularly to understand what the industry needs, how you'll survive in a sea of freelance writers that had already been in the industry for some time, how not to sell yourself short, especially if you have something of value to offer.
You become willing to shell out some amount for equipment, tools and essential knowledge upgrade. A tribe of freelance writers to give you the boost and point you in the right direction when you find yourself lost is golden. Depending on which crowd you plan to associate yourself with, these tribes can both be free and premium.
The above isn't a comprehensive list. But my point is, this simple mindset tweak can spell a whole world of difference.
Final word 
That woman in the story turned out to be me. Don't make the same mistake I did. The same way a money perspective overhaul was all I needed to put my finances in better order, freelance writing is a business. It is but fitting that you make it your business to treat it like a business.
So, what about you? Is freelance writing a side job or business for you?
Image credit: graur codrin | FreeDigitalPhotos.net
The following two tabs change content below.
Maricel Rivera is a freelance writer, editor, and marketing specialist. Her freelance writing career spans over ten years, starting out as a fiction writer in the early 2000s. She has already written on topics covering business software and online marketing.
Latest posts by Maricel Rivera (see all)