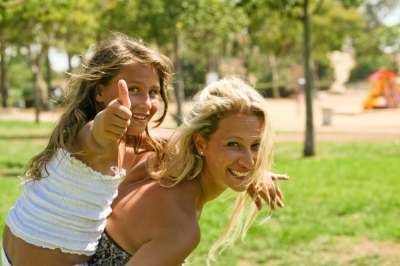 I'm subscribed to a number of email lists, mostly writing, marketing, and blogging lists. More than a year ago, however, my email address was limited to personal connections and/or company newsletters whose ideals and advocacy I support.
Unbelievable perhaps for some of you, but yes, it took me that long to soften my stance toward bloggers and marketers, no thanks to email spam and other unscrupulous marketing activities that are still tainting email's reputation, unfortunately.
Today, I'm happy to say that I have a group of mentors, albeit ones I have yet to meet in person, whose emails I look forward to seeing in my inbox, mainly because of the truckload of valuable information they provide.
Speaking of mentors and their emails, here's a roundup of the new and not-so-new emails I've gotten around to opening and reading this week. Or more accurately, a roundup of five awesome articles those emails got me to click.
In no particular order, here we go:
#1. Boost Blog Traffic's The Underdog's Guide to Building an Unforgettable Blog
This is a great post by Henneke Duistermaat, pretty much like what you would expect from every blog post on Jon Morrow's Boost Blog Traffic. What resonated with me was the section about finding your unique blogging voice by studying, emulating (not copying), and combining the blogging voices of your blogging heroes.
I need to work on mine.
Takeaway
Hundreds, maybe thousands, of other bloggers are writing the same topic as you. To stand out, find your voice and let it shine through every article you write.
#2. Make a Living Writing's Why You Need to Go for Your Freelance Writing Dream Now
There are a myriad of reasons people fail to follow their dreams:
The timing isn't right.
They're not sure if it will work out.
They don't have the funds.
They don't know where to start.
They don't know anybody in the industry.
They're not sure if the dream is even the right dream for them.
You can add several more to the list, but it boils down to just one thing: fear.
In this article, Carol Tice talks about why it's necessary for freelance writers to go after their dream NOW.
Takeway
Success doesn't magically fall from the sky. It starts with a dream that you chase. If the story doesn't turn out well, you learn a valuable lesson – the dream is not for you, or there's another way to make it happen. Either way, if you don't go for it, you'll never know.
#3. Content Marketing Institute's 4 Online Content Creation Best Practices for Success in 2014
2013 had gone by, and 2014 is off to a new start. If I were to hit the year running, I have to work on my content marketing strategies. (I know, it's almost the end of January, but somebody's got to start somewhere, right? Besides, it's better late than never, yes?)
In this article, #4 scored a home run for me: Conversion is the ultimate test of content success. I may just be a freelance writer tasked to write content, but clients hire me with one intent in mind: to boost their conversion effort through the content I write.
Takeaway
Despite my awesomeness – allow me that fantasy, I beg you 🙂 – I am simply a means to an end, and if I fail to deliver that end, I fail in my responsibility as a content writer.
#4. Boost Blog Traffic's 20 Ways to Be Just Another Mediocre Blogger Nobody Gives a Crap About
When I first started blogging, I had a bad case of information overload – so many things to read and study, tons of PDF files to download, so many "gurus" to listen to, so many ideas floating around, literally. Not knowing where to begin, I decided to simply do what I came to the blogosphere to do – polish my writing skills by writing, writing and writing some more. SEO and Adsense be damned!
While I'm guilty of many of the crimes in the list, it seems I did a thing or two right, so says Jon Morrow's article.
Takeaway
Listen to the right people. Stay away from bad neighborhoods. As Google likes to say, they'll get you penalized.
#5. And last but not least, Be a Freelance Blogger's Thank You for Reading: It's Be a Freelance Blogger's Birthday!
Sophie Lizard created a widely popular blog for freelance bloggers in a year's time, which goes to show that if you play your cards right and get good mentors to show you how it's done, things will fall into place – and in record time! Plus, I left a birthday comment and guess what? I won a Be a Freelance Blogger Scholarship. Awesome, eh?
Takeaway
Five years from now, you're the same person except for the people you've met and the books you've read. – John Wooden
So, what have you been reading lately?
Image credit: imagerymajestic | FreeDigitalPhotos.net
The following two tabs change content below.
Maricel Rivera is a freelance writer, editor, and marketing specialist. Her freelance writing career spans over ten years, starting out as a fiction writer in the early 2000s. She has already written on topics covering business software and online marketing.
Latest posts by Maricel Rivera (see all)