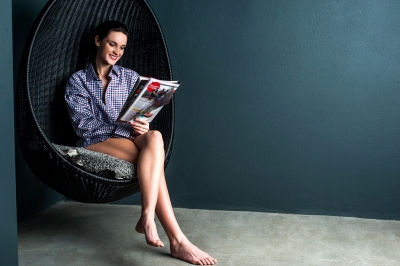 Because I love reading, and I firmly believe that effective writers are readers, too, we're making the Reading List a regular staple here at The Sourcing Pen.
For our first ever reading list, click here.
Today's list should have been for the week that just ended, but as they say, it's better late than never, yes?
So before I start either berating myself or coming up with excuses for not sticking to my posting schedule, let's get moving.
#1. Nick Loper's The Scariest Question Ever (And the Only Right Answer)
At this stage in your life, do you really know what you want? We're talking about deeper wants here, those that require some soul-searching. If yes, good for you. A lot of people, unfortunately, don't.
When you were a kid, there's a good chance you were asked the question, "What do you want to be when you grow up?" Do you remember what you said?
Once, when I asked my youngest the same question, he said he wanted to become a doctor. The year after that, a policeman. The next, a scientist. His answers are evidence that when it comes to this question, there's no right or wrong answer, and the answer can always change.
Having been a fixture in all of my children's "moving-up ceremonies," I've witnessed kids of all shapes and sizes telling the audience (comprised mostly of proud and beaming parents) of their dreams of becoming a dentist, a soldier, a nurse, a teacher, even the President, knowing full well that tomorrow or the next day, they can change their minds if they realize the dream no longer appeals to them.
So now that you're all grown up, what exactly do you want to become?
Takeaway:
Dreams come true only if you work to make them happen. That being the case, strive for something that has the power to truly make you happy.
#2. Boost Blog Traffic's Google Says Guest Blogging Is Dead. Is It True?
The Internet went buzzing when Google's Matt Cutts declared in his personal blog that guest blogging is dead. Shortly thereafter, he had to clarify his position by stating that he was referring to guest blogging for SEO alone.
As expected, Jon Morrow, the ultimate authority on guest blogging, woke up to an avalanche of emails from people wondering if they did their businesses harm by guest blogging.
Takeaway:
Guest blogging for the right reasons is well and alive, not dead. Spammy guest blogging is.
#3. Write to Done's Do You Make These Common Grammar Mistakes? Take the Quiz to Find Out.
My grammar isn't perfect and I have the tendency to mix my prepositions up, among other things, but if there's anything that gives me the headache, it's web articles with glaring grammar errors. It's been said time and time again, if you're a web writer and you want to be perceived as a professional, aside from spell-checking, proofread.
The article above tests your grasp of grammar and explains the reasons behind the answers.
Takeaway:
The first step towards grammar improvement is acknowledging your mistakes. Then, work towards finding a solution. The Internet has revolutionized the way people find the right information at the right time. Make use of it.
#4. Be a Freelance Blogger's 4 Guest Blogging Lessons You Can Learn from the Spice Girls
If you're looking to guest blog for brand awareness, reach a wider audience, or tap targeted traffic, you probably have already read a ton of articles regarding the topic. Francesca Nicasio, a freelance writer who has already done a good deal of guest posting herself, explains why the Spice Girls aren't just about girl power and platform wedge shoes.
Takeaway:
To become successful at guest blogging, remember that it's about relationships, not a hit-and-run experience.
#5. Make a Living Writing's Why You Keep Goofing Off Instead of Writing or Marketing
If you're the type who'd rather do something other than writing or marketing your business, this article is tailor-made for you. And if you think the answers are nothing more than time management and focus, you'd be surprised to know that there are other reasons behind procrastination, and that time mismanagement and lack of focus are just the tip of the iceberg.
Take time to read the comments in the above post. They're as insightful as the article itself.
Takeaway:
If you're a work-at-home mom and struggling to balance your time between writing and your other duties, don't always put the blame on your lack of or inability to find time. Sit down, examine your situation and you may realize that sometimes, the timing is, indeed, probably not right. "There's a time and place for everything" isn't a cliché for no reason.
#6. Content Marketing Institute's Got Compelling Content? 4 Crucial Next Steps
If you've been blogging for a while, chances are this isn't new news to you. But if you're just getting started, it's worth noting that content for the sake of content, no matter how epic the content is, isn't going to do you any good if you're not too keen to market it. While "build it and they will come" proves true once in a while, once in a while, if you're building a business, doesn't cut it.
Takeaway:
Your work isn't done after publishing. As a matter of fact, for your blog or business to get noticed, creating compelling content is just step #1. As business gurus are prone to say, "Marketing is the only activity that's healthy for the bottom line. The rest are expenses."
#7. Business 2 Community's Is the Corporate Website Dead?
A blog is a necessary marketing tool, which is why corporate websites have already incorporated a blog into their sites, as opposed to the online brochure of old where the only things that are available are the About Us, Our Products, Pricing, Talk to Our Representative pages, aside from promotional banners and other advertorials.
People want content they can consume. They want engagement platforms and interaction hubs. Web 2.0 has made that happen, and if you haven't started a blog for your business yet, you may already be trailing the competition too far behind.
Takeaway:
Your website is not a brochure, it's a marketing tool. Use it to your advantage.
Bonus:
If you're fond of videos and are better able to consume content while watching and listening, here's a great resource for you to check out: Marie TV by Marie Forleo. I found her site while Googling "how to write fast." Hear for yourself what she has to say about flipping the script.
So, what have you been reading lately?
Image credit: stockimages | FreeDigitalPhotos.net
The following two tabs change content below.
Maricel Rivera is a freelance writer, editor, and marketing specialist. Her freelance writing career spans over ten years, starting out as a fiction writer in the early 2000s. She has already written on topics covering business software and online marketing.
Latest posts by Maricel Rivera (see all)