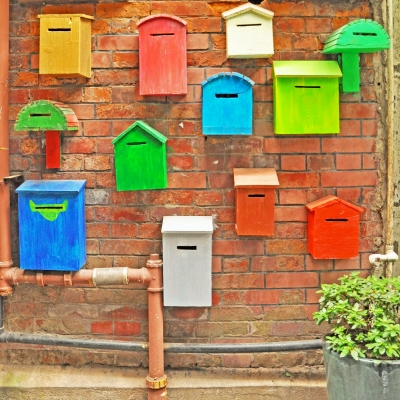 Email newsletters are a great way for bloggers to connect with their readers. An excellent newsletter ensures reader loyalty and also increases the likelihood that they will share your blog with others. Your blog's faithful readers will enjoy the option of receiving an informative email newsletter from you.
In fact, Hubspot found that business blogs average 12 times more subscribers via email than via RSS. Numerous success stories and research reports eliminate any doubt that email newsletters are effective for blogs. What matters is that the newsletter is effective in terms of content, design and delivery.
You can start taking advantage of newsletters' benefits by following the tips below:
#1. Utilize RSS-to-email services
Many users are familiar with RSS as the most accessible way to receive updates when a blog or website publishes something new. With services like Feedblitz and Feedburner, bloggers can customize their email newsletter and RSS feed in one dashboard, also allowing for integration between the two.
Email service providers like Mailchimp and Aweber offer RSS-to-email features with customizable templates, a must-have feature to make your newsletter as engaging as possible.
#2. Create a unique yet readable layout
All basic newsletter services offer default templates for you to explore, with the capability to adjust colors and general layout. Opt for a two-column layout with promo column on the right and the body on the left, at least initially, as you decide what looks most appealing.
This is a common newsletter appearance, so it will appear familiar and readable to your subscribers.
#3. Do not send unsolicited emails
One of the quickest ways to lose valuable readers is to send them a newsletter unsolicited. Chances are, if you offer the ability for them to sign up for a newsletter, they will. But unsolicited emails are spam, regardless of their affiliation. Make sure you have a very visible graphic on your blog's home page allowing readers to submit their email to join the newsletter.
#4. Include a link to the sign-up in signatures
In both forum and email signatures, link to your blog's home page as well as your blog's newsletter's sign-up page. This is a non-pushy way to promote both to new connections via email. If they're interested in you or your blog, they will likely sign up for the newsletter on their own, since it will just be a click away.
#5. Provide an easy way to opt out
You can increase the usefulness of a newsletter by weeding out those who are truly not interested, or readers who are just deleting your newsletter as soon as they receive them. By providing an easy way to opt out of the newsletter, you can better hone in on readers who actually do read the newsletter.
This data is very useful for product-driven blogs seeking to discover leads via their newsletter subscribers.
#6. Set the frequency with blog posts in mind
The frequency of your newsletter is related to the frequency of your blog posts, just as blog content is tied into email marketing copy. Sending your newsletter once per week ensures that you will be able to share new blog content, as opposed to scraping desperately for engaging material every other day.
An unsubscribe rate of greater than 2% means you should alter your frequency and/or content until the subscription rate steadies.
#7. Value connection over self-promotion
Your newsletter subscribers are aware of your blog; they don't need to be reminded of it with every email. They subscribed because they enjoy your commentary and writing. Knowing this, you should tap into the entirety of your niche, rather than just your blog.
Link to other sources, inspire conversation and hold contests in addition to providing your own engrossing content. These are just a few ways you can make the most of your email newsletter.
__________
If you need help writing content or editing your articles, contact us today so we can discuss how we may be able to assist you. We've already written hundreds of articles for both online and offline publications.
We also offer ghostwriting services. Some of the pieces we've ghostwritten appear on Yahoo, Huffington Post, and Forbes.com.
__________
Image credit: gubgib | FreeDigitalPhotos.net
The following two tabs change content below.
Kayla Matthews is a workplace productivity blogger and writing enthusiast. You can read more about blogging, productivity and work at her blog,
ProductivityTheory.com
.
Latest posts by Kayla Matthews (see all)