Managing a project, regardless of scope and scale, can already be a challenge on its own.
Having to learn and then train others to use complicated tools, maneuver through complex software intricacies to optimize team performance, connect and collaborate – all while scrambling to beat the project's delivery deadline – is perhaps asking for too much from an ordinary project manager who simply wants to get the job done.
This is what founders Victor Teslenko and Nick Nikolaev realized.
After trying several commercially available project management tools, they came to the conclusion that the tools were either too simple that they don't really help much with their projects, or too complex, expensive and time-consuming to roll out.
And so, Casual PM was born
Seeking to answer the needs of non-professional project managers (e.g., non-PMI-certified project managers or those without a degree in project management) who don't relish working with complicated professional project management systems, Victor, a software architect and Java technology consultant, and Nick, an entrepreneur and marketing specialist, collaborated to create a tool that's powerful but simple enough to accomplish what a complex, for-corporate project management software can do but without the added learning curve.

Victor and Nick launched their private beta in 2013. After getting feedback, and experimenting and developing the software further, they released their updated website at the end of July 2014 and are now preparing to launch the product's commercial version later this year.
Casual PM: An app with a new approach
According to QuickSprout, 90% of information that the brain easily receives is visual, a feature that Casual PM capitalizes on. With its intuitive end-user interface, Casual PM lets you organize tasks and ideas the way they look in your mind.
You plan and execute your activities as visual workflows, much like creating a flowchart. This way, you get an overall view of your project's progress, your team, their tasks, deadlines and dependencies, making it easier to spot weak points as they happen.
A bird's eye view and a warrior's focus
With Casual PM, the whole project map is available for everyone's perusal, so they can review how each task relates to the overall project. To avoid confusion and lack of direction, Casual employs a special algorithm to keep team members focused on their specific task lists.
Without overwhelming them with a large data map of tasks, Casual has a feature that allows team members to see their own task lists, separate from the whole project map. These lists are arranged according to what has been assigned to them.
For projects with repetitive workflow setups, Casual is equipped with a template-saving feature, allowing users to save time by being able to reuse their old project maps. Casual also integrates with apps like Google Docs, Dropbox and Box, and is currently working to facilitate easy integrations with other major vendors.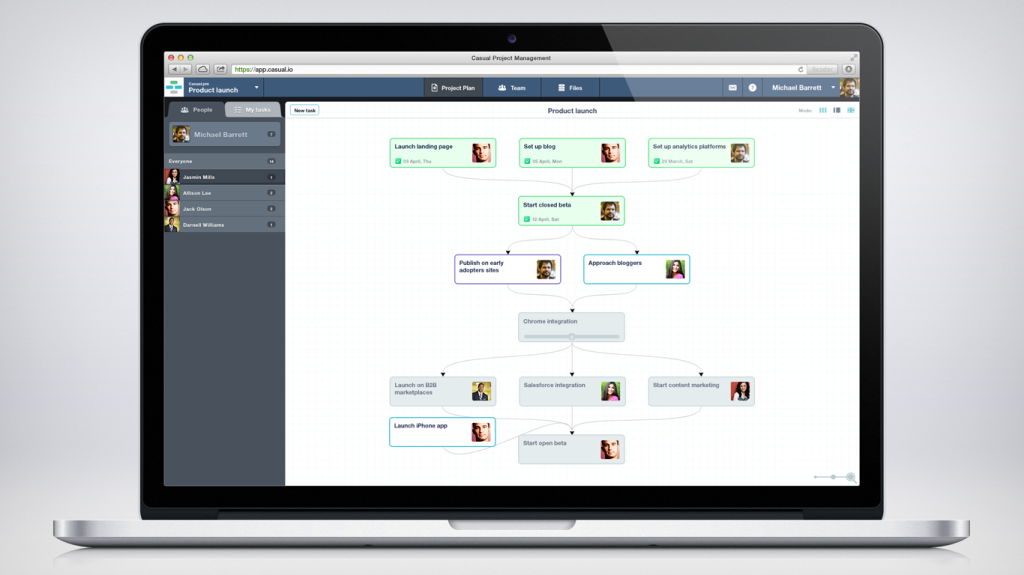 What's next for Casual PM
With established competitors like Basecamp, Wrike and Trello in an already crowded project management software space, Casual PM sets itself apart through project management simplification.
While other project management tools position themselves as fully equipped with complex add-ons, such as Gantt charts and Kanban boards, Casual PM, with its highly visual and straightforward stance on project management, stands out as the breath of fresh air amid heavy-hitting, professional software.
As Nick puts it:
We want to change the way people organize tasks and projects. The main goal is to simplify project management and save time that people are spending on their work.
Your investment
Casual PM starts at $9 a month for two-user teams. Their pay-per-user model lets you grow your team to a maximum of 10 users, and you'd only need to pay $49 per month. For those working on longer-term projects, Casual PM provides a 30% discount.
If you're a media representative or will be using Casual PM for public school or nonprofit work, the software is yours to use for free.
To sum up, project management need not be overly complex. For those who only want their projects done without much of the hassle, a visual mapping interface that lets you organize your sometimes thickening plans into smaller, quantifiable tasks and outline them into a simplified, easy-to-communicate format is an option that Casual PM is perfectly equipped to deliver.
To get to know Casual more, visit their website at https://casual.pm/. You may also follow them on Twitter: @casualpm. Meanwhile, here's a short explainer video:


Casual Project Management Video from Casual.PM on Vimeo
_____
Disclosure: Hazel Mae Pan is Casual PM's communications specialist.
The following two tabs change content below.
Hazel Mae Pan
Hazel
is a full-time researcher and editor for a multinational financial firm. She is also a freelance researcher and writer with more than 10 years of professional and competitive writing experience. Technology, psychology, aesthetics, music, economics and finance are among her professional and literary interests.
Latest posts by Hazel Mae Pan (see all)