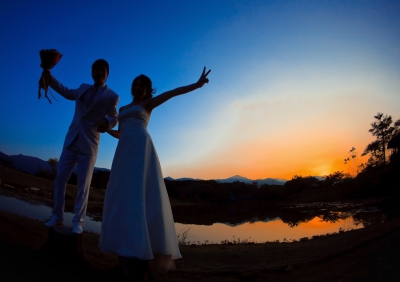 For us mere mortals, marriage is a leap of faith. It can be a lot of things – exciting, scary, that feeling that you're stepping into something unknown, or if you'd even come out of it alive and kicking.
Don't get me wrong. I'm not garbed in the party pooper costume here, but yes, marriage can elicit a sense of doubt even in the strong-willed.
You may be getting married to the love of your life, but there's no telling where the relationship will end up.
Of course, marriage isn't just about love. If a relationship is based on one single emotion and then that emotion suddenly finds itself flying out of the window for one reason or another, what is there to keep the relationship going?
Look around you. A lot of people fall out of love.
(You say maybe it's just the wedding jitters that prompt me to say all this. But I've been married for fifteen years.)
While love conquers all (yes, I honestly believe that), love isn't all emotion. Love is about conviction, too. And conviction can mean a lot of backbreaking work for both the ready and unprepared.
Before I start sounding like something I'm not, let's get back to the topic at hand.
The title, in my opinion, says it all. Freelancing can be likened to marriage. (And I don't mean to ruffle the feathers of those "allergic" to marriage out there.)
Freelancing isn't just about professing the willingness or the passion or the drive to succeed while doing what you love, it's about making a commitment as well. Without it, like marriage, freelancing is doomed to die a natural death.
Deadlines, toxic clients, bills to pay and procrastination
There are a lot of benefits to freelancing – the freedom to choose when and where to work, which projects to take on, which clients to collaborate with, telecommuting, the lists can go on. However, there always are two sides to a coin, which goes without saying that freelancing has its downsides, too.
Deadlines
While freelancing can be synonymous to freedom at one point or another, freelancing is about meeting tight deadlines as well. Your clients have their own set of objectives. And if you're unable to contribute to those objectives, you become dispensable. Plus, you're putting your reputation in jeopardy.
In freelancing, generally speaking, your brand is your name. And if your brand is tainted by the inability to deliver, you have a lot of serious thinking to do.
Toxic clients 
There are a lot of freeloaders out there – yes, even among those who call themselves "employers." Fifty cents for a 500-word article? Methinks clients such as these are not worth the effort. If they don't see the value in your work, there's absolutely no use working with them.
On the flipside, there are clients who pay well. Then again, if they're the types that give you the headache for reasons ranging from indecisiveness to unreasonable demands, ask yourself: Until when are you willing to endure the pain?
Bills 
There will always be bills to pay. No question there. If you quit your 9-to-5 in favor of freelancing, keep in mind that unlike a regular job, money won't come in like clockwork. There won't be fringe benefits like paid leaves, group life insurance, health insurance, bonuses and the like.
Before taking the freelancing plunge, know what you're getting into. If you must, start freelancing on the side to develop a portfolio, not to mention, gain first-hand experience.
Procrastination 
When you work for yourself, with no boss hounding you for reports and the like, it's so easy to procrastinate. Managing your own time and career is going to be a different ball game. While time management sounds like a pretty easy concept to grasp, in reality, it's difficult to master.
Conclusion
Freelancing takes a lot of guts and some degree of maturity. If you're the type to quit at the first sign of a hurdle, you're definitely not going anywhere. In freelancing, there will always be difficulties, even when you think you're seasoned enough to know the landscape.
That being said, before you say "I do" to freelancing, check if you have a good dose of commitment tucked somewhere convenient.
Image credit: Vichaya Kiatying-Angsulee | FreeDigitalPhotos.net
The following two tabs change content below.
Maricel Rivera is a freelance writer, editor, and marketing specialist. Her freelance writing career spans over ten years, starting out as a fiction writer in the early 2000s. She has already written on topics covering business software and online marketing.
Latest posts by Maricel Rivera (see all)