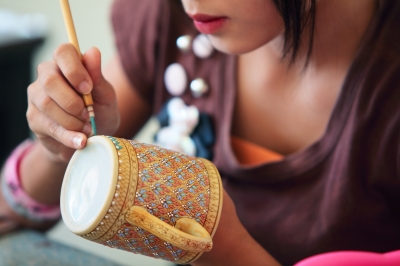 I was aboard a bus for home when a newspaper guy started distributing, well, newspapers to passengers. It wasn't a brand I was familiar with, and I thought it might be some sort of propaganda, considering that the barangay elections are just a few weeks away.
The other part of my brain was quick to negate this initial thinking. Is propaganda even warranted, what with the "pork barrel" circus the country is now known in the world for? Rampant corruption in the government's upper echelons has seeped down to barangay levels that smear campaigns no longer counted much.
Officials' reputations are already positively smeared that what they need now is a good amount of mess cleaning, which, given the state of things, can take generations.
The newspaper guy spoke to call everyone's attention. I've already developed some sort of "tuning-out mechanism" for these sorts of tricks bus ware sellers employ, but because he was a mere few feet away from where I was seated, not to mention the big booming voice, I couldn't help but listen to what he had to say.
He had an accent and obviously not from the city. Then again, if you think about it, majority of the people in the city are not natives, including myself. He was alternating between Visayan and Tagalog, and there were some points in his spiel that I couldn't understand.
But from what I gathered, he was new to the city and hasn't found a job yet. He wanted to help send his brother to school and thought selling newspapers should do for the meantime.
Nope, not interested, but …
I was ready to dig deep into my purse for something to busy myself with. Although it's true that Filipino family ties are tight, helping a sibling through school is already a well-used selling point, so well-used even by scammers that it no longer elicits the emotion it wants to evoke.
I've already given up on him when he said something else that got my full attention. The newspaper's price tag was 10 pesos (a little less than US $0.25 based on the current exchange rate), but he was willing to accept any amount for it, even just a peso.
I looked back at the newspaper on my lap. Okay, so there's an article on personal finance that might be interesting. When my eyes moved back to the guy, the sincerity on his face got to me.
Without even thinking about it, I searched my pockets for some change and paid him the full amount despite the fact there's a good chance I won't be able to read his newspaper soon, given the pile of readings I already have lined up for the weekend and the rest of the week.
So what gave? 
The newspaper guy's selling tactic might not be new to others, but it was to me. The "free taste" proposition, or in this case, "free (or almost) newspaper experience" got me curious. And although it wasn't the best marketing strategy out there, at least in my opinion, the newness prompted me to part with my money.
Let's analyze the situation a bit and see how that can relate to freelance writing.
His newspaper isn't well-known.
Now that I decided to finally inspect it, it's some other tabloid, although published weekly.
When you venture into online freelance writing for the first time, your product (your freelance writing skills, that is) is like "some other tabloid." No brand, no followers, no clients, no sales. Selling your product is going to take more than the guts to board buses and speak to complete strangers who are already mentally conditioned to label what you sell "some other tabloid."
Hint: Google your brand (your name, in most cases) and check if you show up in the search engines. Otherwise, your online presence might not be strong enough.
A peso for a 10-peso newspaper? He was practically giving away his product!
The law of supply and demand says that when demand for a product is high and supply is down, prices go up. If supply is up and demand is down, prices go down. I would dare to posit that the demand for his product is low. Like I said, it wasn't popular. I didn't recognize the brand, and there wasn't anything strikingly unique about it.
But since I've already leafed through the pages, I'd like to believe that there's promise for this newspaper. It isn't that bad. As a matter of fact, I especially liked the cartoons in the editorial column.
Hint: Never sell yourself short. If you must, concentrate on providing quality over quantity. Concentrate on what you do best and expand on those. This way, you earn a ticket to commanding your price the next time around.
Sob stories and blatant attempts to play on people's emotions don't always work.
Telling a potential employer you need a job because of the misfortune that befell you and your family may land you some jobs once or twice, but definitely not all the time. Remember, these people are running a business, not a charity. Besides, you're not a charity case. (Or are you?)
Hint: Focus on your strengths, your skills and the value you can offer, not your financial woes. Instead, use your problems as springboard to becoming what you eventually hope to be.
He was just another vendor.
Just like his newspaper was some other tabloid, he looked just like the guys who boarded and left the bus to sell bottled water and fried peanuts. Of course, I'm not suggesting that he should have dressed up like a clown to look different. My point is that when you present yourself out there, you're just some other wannabe freelance writer, especially to somebody who hasn't heard of you.
Hint: There's got to be something about you that allows you to stand out from the crowd. Is it your people skills, your ability to push other people to prominence and eventually yours?
Sincerity saves the day.
I believe that honesty is still the best policy. Sometimes, in our quest for more gigs and more money in this cutthroat web-writing industry, we forget that there's more to a gig than just a job. There's your employer and the core values that you uphold.
Hint: Sincerity, one way or another, always makes its mark. If you're sincere about becoming an asset to your employer's company/business, it will show. Forego the notion that it's just for the money. Become something money can't buy.

Bonus: Never pretend to know things that you don't. When you're lost, ask questions. Childlike sincerity can go a long way. And yes, it isn't always bad to be the "dumbest person in the room."
Innocent until proven guilty 
Remember how the burden of proof falls on you whenever you accuse anybody of wrongdoing?
If you're new to the online freelance writing industry, especially without the flags of the U.S., Australia, Canada and the U.K. backing you up to testify to your English speaking and writing skills, proving you're worthy of a gig that's also available to writers and freelancers from native English-speaking countries can be one heck of a challenge.
There's certainly no resentment in me saying that because that's just the way it works. It's a competitive universe, and if you're new, the burden of proving that you can deliver and deserve the rate you command rests upon your shoulders. Innocent until proven guilty, right?
So, what novel tricks do you have up your sleeves when landing freelancing gigs?
Image credit: sakhorn38 | FreeDigitalPhotos.net
The following two tabs change content below.
Maricel Rivera is a freelance writer, editor, and marketing specialist. Her freelance writing career spans over ten years, starting out as a fiction writer in the early 2000s. She has already written on topics covering business software and online marketing.
Latest posts by Maricel Rivera (see all)