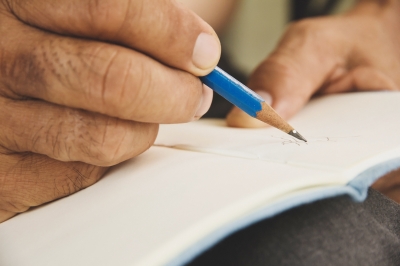 For the last two weeks or so, I haven't been writing much. Today that I need to come up with something, as per a request from an editor I work with, for some reason, I'm having trouble getting my thoughts organized. When I paused to think about it, the realization hit me square in the face – my writing muscles aren't being flexed enough to become as resilient as I want them to be.
I can list a thousand and one ways to justify my inability to write as often as I would like, but that is making up excuses. Like the great Benjamin Franklin once said, "He who is good for making excuses is seldom good for anything else."
The same way a plumber needs to work with plumbing to merit the title, or a programmer to create programs, a doctor to treat patients, or a teacher to teach his/her students, a writer needs to write to become a writer.
Yes, it is that simple, no secret recipes whatsoever.
Write everyday to improve your craft
"We are what we repeatedly do. Excellence, then, is not an act, but a habit." – Aristotle 
Write everyday.
I'm sure you've heard that advice from somewhere before. And depending on which side of the glass you're looking from, that is either good or bad advice.
The good:
Like an athlete training every single day, a writer needs to write every single day as well. It doesn't have to take hours, especially given the very hectic schedule we all contend with on a regular basis. As a matter of fact, it can be as little as ten minutes a day – while on coffee break, while commuting to and from work, while waiting for your name to be called at the dentist's.
The bad:
I know what you're thinking.
You can't accomplish much in ten minutes.
To be honest with you, I can't finish a decent 500-word blog post in ten minutes, which goes without saying that I agree that not much writing can be done in ten minutes.
This advice, therefore, only holds true if you aren't a full-time writer. This advice is good for those writers who want to constantly flex their writing muscles, to ensure that when those muscles are needed, there don't have to be a lot of hours coaxing, or flushing, the block/resistance out of their system.
The takeaway:
So what exactly can you write in ten minutes that will help improve your writing? So far, the following had worked for me in the past:
Interesting water cooler conversations and what makes them interesting
Line or quote that made you laugh, angry or even just pause to think
How you feel about the movie/TV series you just saw
Why you feel this particular celebrity doesn't even deserve celebrity status, or the other way around
Anything, really! Freestyle writing works like a charm, especially if you're trying to fight off the block.
When you finally find more time to complete an article or blog post (or any writing that's going to take more than a mere ten minutes), go back to your ten-minute writings and you'll be surprised to realize that your random thoughts can actually be expanded to a full blog post.
What about you, do you write everyday? If so, what benefits has it given you so far?
Additional sources:
Image credit: ponsulak | FreeDigitalPhotos.net
The following two tabs change content below.
Maricel Rivera is a freelance writer, editor, and marketing specialist. Her freelance writing career spans over ten years, starting out as a fiction writer in the early 2000s. She has already written on topics covering business software and online marketing.
Latest posts by Maricel Rivera (see all)