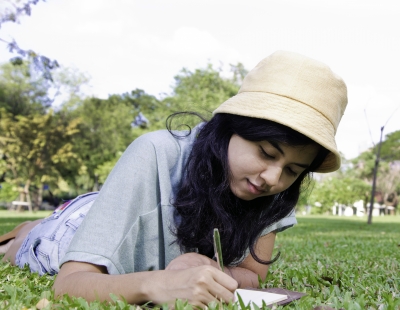 I posted an infographic about the hidden benefits of part-time work in my other blog a few days back. One of the blog's regular readers retorted with a comment, "I think the rates are only realistic for Americans."
While I concede that there's truth to her words, there's something about the comment that didn't sound right to me. Maybe it's just my imagination running wild, but I believe we got right on our hands a fitting opportunity to address this issue about rates.
From the viewpoint of a freelance writer who hails from an area where majority of freelancers charge way below what they're worth, I think the issue is really not about the rates per se. Somewhere in there, there's an underlying confidence issue, which then morphs into mentalities that hamper their growth in the field.
Confidence, or the lack thereof 
What makes a person hesitate? When he's not sure he's doing the right thing, right? Or even if he knows he got all the bases covered, he's worried about the repercussions of his actions, more so if the repercussion can lead to failure.
What then is the next logical step to take?
First off, determine what makes your confidence fly out the window when you need it most. There are no right or wrong answers. Is it your grammar? Is it the way you convey your message? Are you worried that your writing style isn't conventional and will be shunned by your target audience?
Nobody's perfect, and I myself am guilty of grammar boo-boos, lots of them. But the good thing about bad grammar, it can be fixed. There are blogs and publications that address common and not-so-common grammar mistakes. A quick Googling around resulted in Grammar Girl, Grammar Phobia and the Grammar Blog, which got me chuckling after just a few blog posts.
There are a lot more, if you take the time to find them.
As for writing style, realize that your style/voice is uniquely your own. No one can write like you because there's only one you in this world.
One of my favorite writers is Jeff Goins. Jeff's writing style is simple and direct to the point, and doesn't have to resort to using big words to convey the message. Jeff, too, struggled with confidence issues when he was still starting. Even when he had already trained people to write, he refused to call himself a "writer." But the moment he owned the title, add to that a generous amount of dedication, things started falling into place.
Competition based on price 
The Internet has broken down geographic and time barriers, leveling the playing field for freelancers. With the rise of telecommuting and the freelance economy, opportunities have become global.
The sad reality, however, is that a good number of freelancers do not compete based on the quality of what they offer, but on price. Competition based on price is unhealthy for the freelance writing industry, or to any industry for that matter.
Writing isn't cheap. Quality writing requires a certain amount of skill, if not talent, not to mention the time it takes to conduct research, if needed. 
Here's a timely article that outlines five reasons why freelance writers should start charging more. 
The poverty mentality 
According to WiseGeek, poverty mentality is an attitude that focuses on what a person doesn't have rather than what he already has, an attitude centered on what a person can't do rather than what he can do to achieve what he aspires to achieve. 
Consider this: 
Some seasoned freelance writers charge anywhere from $300 to $500 per 500-word blog post. If this is new news to you, how do you think you'd react?
I'm not seasoned enough. I can't make that much.
That's impossible! In the real world, a 500-word article is only worth $5.
I'm just starting out. What do I have to do to be able to charge that much, too?
If your answer is 1 or 2, notice how your brain just closed a door to something that can possibly change your circumstances? If your answer is 3, you've just opened a whole new world teeming with possibilities.
To ditch the poverty mentality, persistence is not enough. As Darnell Jackson of YourOnline.biz outlines in his post, tenacity is key to become successful.
Not listening to the right people
Now that you know that charging $100 or more for an article is very much possible, the next step to take is to associate yourself with people who can help you get there. Here are some of the blogs I frequent:
Francesca Nicasio also sends out valuable freelance writing tips to her subscribers. Download her free e-book, 25 Types of Writing Gigs that Pay Well, via Be a Freelance Writer and you're all set to receive exclusive updates.
There are a lot more that you can add to the list. But the point is if you're still rubbing shoulders with freelance writers and clients who see writing as a wholesale business that requires you to churn out content after content, regardless of quality, you're running in the wrong circles.
Final word
The ball is in your court, like it always has been. If it's confidence that's stopping you from claiming what's yours, ask yourself: Will you be content to scrape the bottom of the barrel for the rest of your freelance writing life?
If not, I challenge you, right here and now, decide (with conviction, please!) that you're worth more than a penny per word. Believe me, if you strive to write quality content every step of the way, you deserve way, way more than that.
Image credit: Sira Anamwong | FreeDigitalPhotos.net
The following two tabs change content below.
Maricel Rivera is a freelance writer, editor, and marketing specialist. Her freelance writing career spans over ten years, starting out as a fiction writer in the early 2000s. She has already written on topics covering business software and online marketing.
Latest posts by Maricel Rivera (see all)